HYREL3D PRNTERS
ENGINE SR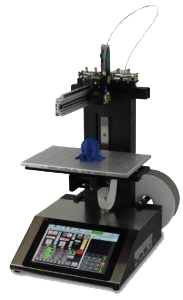 ENGINE SR - STANDARD RESOLUTION
High Reliability - Low Maintenance - High Uptime
Works with all Hyrel print heads, allowing you to work with numerous materials, including Clay, Plasticine, Sugru, Silicone RTV, porcelain, etc.
Designed with safety in mind
Rugged, all-metal design
Includes interchangeable mounting system
State-of-the-art, plug-and-play electronics (Gib System)
Ready for upgrade/expansion options
Compatible with large volume extruders
Please note that thermoplastics like ABS, PLA, Nylon, NinjaFlex,
FilaFlex, etc. do much better with a heated enclosure.
TECH SPECS
BUILD VOLUME
X Axis 225 mm
Y Axis 200 mm
Z Axis 200 mm
POSITIONAL ACCURACY:
X Axis +/- 50 microns
Y Axis +/- 150 microns
Z Axis +/- 10 microns
POSITIONAL RESOLUTION:
X Axis 5 microns
Y Axis 5 microns
Z Axis 1 micron
CHASSIS:
Powder-coated Steel & Anodized Aluminum (no enclosure)
ELECTRONICS:
State-of-the-art 150+ MHz 32-bit ARM processor
Modular, micro-stepping motor-drivers with closed-loop encoding
Integrated, Dual CAN-bus architecture
"Smooth Move" motion control technology firmware
Integrated camera
MOTION CONTROL:
Precision Ball Screw in Z-axis
Precision Linear Bearing System in X, Y, and Z Axes
TABLET PC:
USB: Four USB 2.0 Ports (External)
WLAN: WiFi Capable
PHYSICAL DIMENSIONS
OUT OF THE BOX, SPOOL RODS ATTACHED
Weight: 50 lbs / 23 kgs
Width: 13 in / 33 cm
Depth: 21 in / 54 cm
Height: 22 in / 56 cm
OUT OF THE BOX, SPOOL RODS REMOVED
Weight: 50 lbs / 23 kgs
Width: 13 in / 33 cm
Depth: 15 in / 38 cm
Height: 22 in / 56 cm
ATX POWER SUPPLY SPECS:
Power: 750 W
Voltage: 115 / 230 V
Current: 16 / 8 A
Frequency: 60 / 50 Hz
Physical On/Off Switch: Yes
IEC-60320 C14 connector
IEC-60320 C13-to-NEMA 15 Power Cable
US Standard (International must supply own)
COMPATIBLE HEADS
HOT FLOW HEADS:
MK1-250
MK2-250
MK1-450
COLD / WARM FLOW HEADS:
EMO-25, COD-25
VOL-25, VCD-25
KRA-15, KCD-15
SYRINGE HEADS:
SDS-5, CSD-5
SDS-10, CSD-10
SDS-30, CSD-30
SDS-60, CSD-60
OTHER HEADS:
Spindle Tool
Lasers
Extra Cooling Fan
Microscope