HYREL3D PRNTERS
Hydra 16A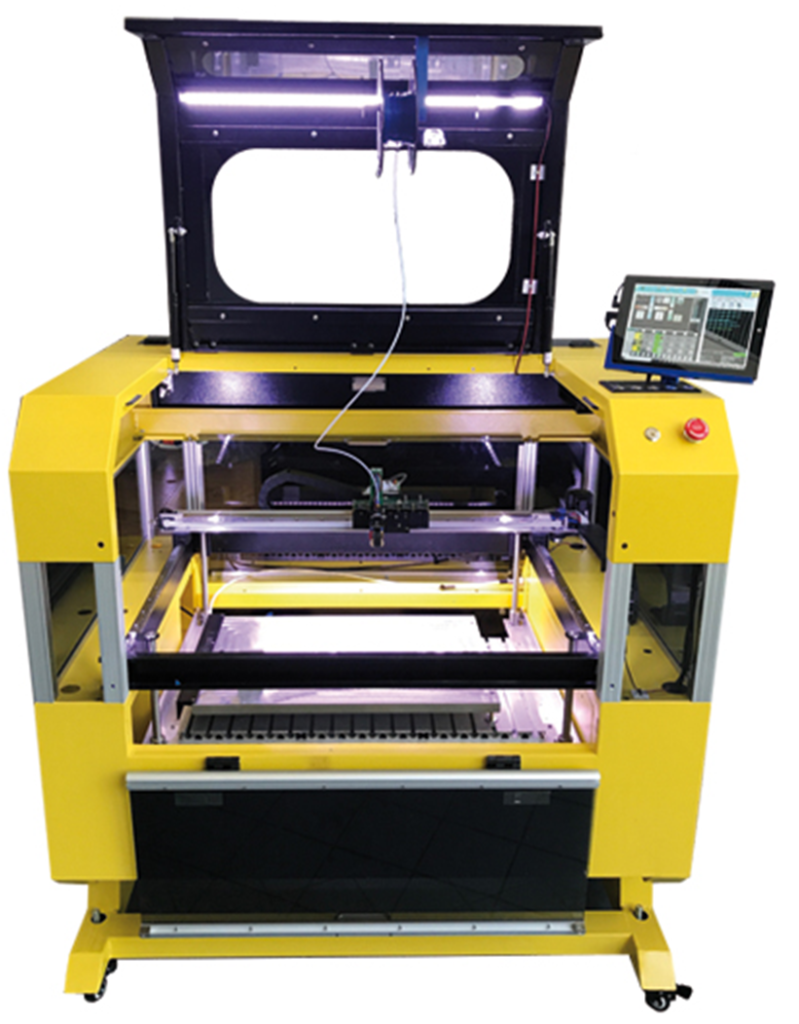 TECH SPECS
BUILD VOLUME
X Axis 400 mm (opt. 600 mm)
Y Axis 300 mm (opt. 400 mm)
Z Axis 250 mm (opt. 500 mm)
POSITIONAL ACCURACY:
X Axis+/- 60 microns
Y Axis +/- 60 microns
Z Axis +/- 10 microns
POSITIONAL RESOLUTION:
X Axis 6 microns
Y Axis 6 microns
Z Axis 1 micron
CHASSIS & ENCLOSURE:
Powder-coated Steel & Anodized Aluminum
Plastic Windows
ELECTRONICS:
State-of-the-art 150+ MHz 32-bit ARM processor
Modular, micro-stepping motor-drivers with closed-loop encoding
Integrated, Dual CAN-bus architecture
"Smooth Move" motion control technology firmware
Integrated camera
MOTION CONTROL:
Four Precision Ball Screws in Z-axis
Precision Linear Bearing System in X, Y, and Z Axes
TABLET PC:
USB: Four USB 2.0 Ports (External)
WLAN: WiFi Capable
THE HYDRA 16A – The Freestanding (Floor) Model
High Reliability - Low Maintenance - High Uptime - Heated Enclosure - Large Volume
Note that due to nomenclature confusion, this has been renamed back to the 16A.
The Hydra 430 and 640 are the 16AS (250mm Standard Height) with different bed options.
The Hydra 645 is the 16AT (500mm Tall Height)
Heated, enclosed build environment and filament storage protects your build and material from outside environmental changes
Works with all Hyrel print heads, allowing you to work with numerous materials, including ABS, BendLay, Clay (including metal and precious metal clay), Flex45, LayBrick, LayWood, NinjaFlex, Nylon (including Taulman 618, 645 and 910), PC, PEEK, PET, PLA, Plasticine, PlastInk Rubber, Play-Doh, PP, PPSU, PVA, RTV SIlicone, Sculpey, Sugru, T-Glase, Ultem, and your own custom filaments and emulsions.
Designed with safety in mind
Rugged, all-metal design
Includes interchangeable mounting system
State-of-the-art, plug-and-play electronics (Gib System)
Ready for upgrade/expansion options
Compatible with large volume extruders
Optional 200C hotbed (larger than 300x400mm requires 230VAC)
Optional 3-Phase Spindle Tool
Optional Chilled and/or Vacuum Beds
Optional 40W CO2 Laser on Standard Height Models
40W CO2 Laser NOT AVAILABLE ON TALL MODELS
Hydra 16AS: 250mm Z, with the following bed options:
Bed 43W is 400×300, 120°C
Bed 43H is 400×300, 200°C
Bed 64W is 600×400, 120°C
Bed 64H is 600×400, 200°C
Hydra 16AT: 250mm Z, with the following bed options:
Bed 64W is 600×400, 120°C
Bed 64H is 600×300, 200°C
PHYSICAL DIMENSIONS
OUT OF THE BOX, LID OPEN
Weight: 300 lbs / 136 kgs
Length: 48 in / 122 cm
Width: 35 in / 89 cm
Height: 68 in / 173 cm
645, height 78 in / 198 cm
OUT OF THE BOX, LID CLOSED
Weight: 300 lbs / 136 kgs
Length: 48 in / 122 cm
Width: 35 in / 89 cm
Height: 55 in / 140 cm
645, height 65 in / 165 cm
ATX POWER SUPPLY SPECS:
Power: 750 W
Voltage: 115 / 230 V
Current: 16 / 8 A
Frequency: 60 / 50 Hz
Physical On/Off Switch: Yes
IEC-60320 C14 connector
IEC-60320 C13-to-NEMA 15 Power Cable
US Standard (International must supply own)
COMPATIBLE HEADS
HOT FLOW HEADS:
MK1-250
MK2-250
MK1-450
COLD / WARM FLOW HEADS:
EMO-25, COD-25
VOL-25, VCD-25
KRA-15, KCD-15
SYRINGE HEADS:
SDS-5, CSD-5
SDS-10, CSD-10
SDS-30, CSD-30
SDS-60, CSD-60
OTHER HEADS:
Spindle Tool
Lasers (no CO2 on tall models)
Extra Cooling Fan
Microscope